Private Events & Catering Services
The ambiance is reminiscent of the old steak houses of the fifties and sixties.
Big red leather booth and dim champagne colored lights create an era of days gone by. One might imagine Frank Sinatra and his entourage to be tucked away in one of the more secluded booths. One might choose to sit in the lounge, where dining and entertainment is provided by talented musicians at the infamous Piano Bar… Other dining options include: The Main dining room or the Starlight Terrace. Banquet facilities are also provided in our Triple Crown Room for all private functions or business meetings.
Red Tracton's offers two adjacent banquet rooms for your private party needs. The newly renovated "Triple Crown" room is a secluded private dining area with seating up to 60, with a mixture of roomy booths and tables to accommodate most functions. Our "Starlight Terrace" patio dining room seats around 40 comfortably and offers a self-contained full bar. Both rooms can be used simultaneously for larger events.
–
Whether You're Hosting A Festive Office Luncheon, A Rehearsal Dinner, Or A Distinctive Holiday Gathering, We Will Provide The Excellence And Attention To Detail To Ensure Your Event Is Special. And As Always, We'll Serve Up The Finest In Sumptuous Seafood And Quality Prime Beef.
Make use of our state-of-the-art audiovisual system to add another dimension to your celebration.
• Banquet/Private Room • Dining Room • Bar Dining • Bar/Lounge • Smoking Area
• Full Bar • Beer • Wine • Personal wines welcome (corkage fees apply) • Takeout
• Dancing  • Entertainment • Fireplace • Late Night • Wheelchair Access
–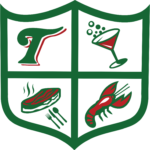 Let's stay in touch
Keep up with what's happening at Red Tracton's Steakhouse, from exclusive events to new menu items and more.